Styleline Aluminium Lattice
Many years ago Patio World designed a simple concealed fixing clip and patented it; doing away with the need for rivets or screws, making lattice far more attractive and giving it greater strength.
Styleline Aluminium Lattice is manufactured from strong high grade aluminium, it won't rust, warp or split and best of all unlike timber lattice it will never need painting. We have a range of stylish powder coated colours that will enhance your outdoor living area.
The lattice can be used for privacy screens, to enclose a carport, or even used as balustrade around your deck. The applications are endless and every panel will be individually made to suit your requirements.
Features of the Styleline Aluminium Lattice
manufactured from strong, high grade aluminium that will not rust, warp or split
patented concealed fixing clip which gives a clean, rivetless, streamlined appearance
hard wearing, long lasting, maintenance free, durable powder coat finish
diamond or square configuration available
a full range of exciting colours
individually made to measure
fully cyclone rated
Applications for the Styleline Aluminium Lattice
to provide you with a privacy screen for a patio or pool area
turn an exposed garden into a comfortable secluded hideaway
to create a secure screen for carport, storage or outdoor living area
provide partial shade to a living or entertainment area
install gates and doors in matching material to meet all of your access needs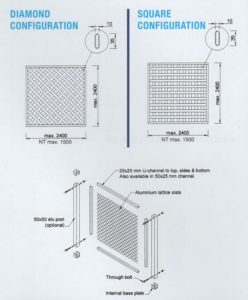 Book Free Design Consultation